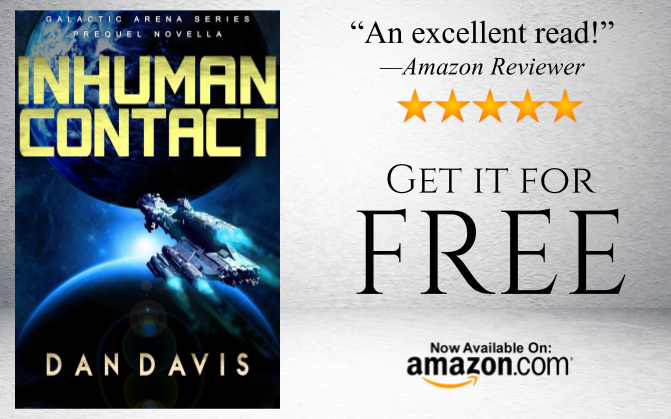 In the near future, an alien space station appears beyond the orbit of Neptune. A pioneering mission of first contact is launched. But the genetically engineered backup crew was never meant to do it alone…
Download for free now on Amazon US
Download for free now on Amazon UK
When disaster strikes the spaceship UNOPS Ascension, the genetically engineered reserve crew are all that remain. To survive the mission they must overcome their conditioning, unlock their potential… and become truly human.
Max (Medical Assistant XIII) was designed, grown and conditioned for Mission Zero. He is capable of performing complex medical tasks, administering drugs, running blood tests and even assisting in minor surgeries. But Max knows nothing more. Nothing about the mission, the Ascension, the other Artificial Persons on board or even himself. Only, there is something wrong with Max.
He is beginning to learn.
The first prequel in the Galactic Arena Series, Inhuman Contact explores the story of Mission Zero and humanity's first encounter with Orb Station Zero. It examines the origins of the Artificial Persons Program and why there is pro- and anti-AP terrorism on Earth in the main series. It can be read before or after Book 1 Orb Station Zero, or as a stand-alone story.
Download for free now on Amazon US
Download for free now on Amazon UK
---
---